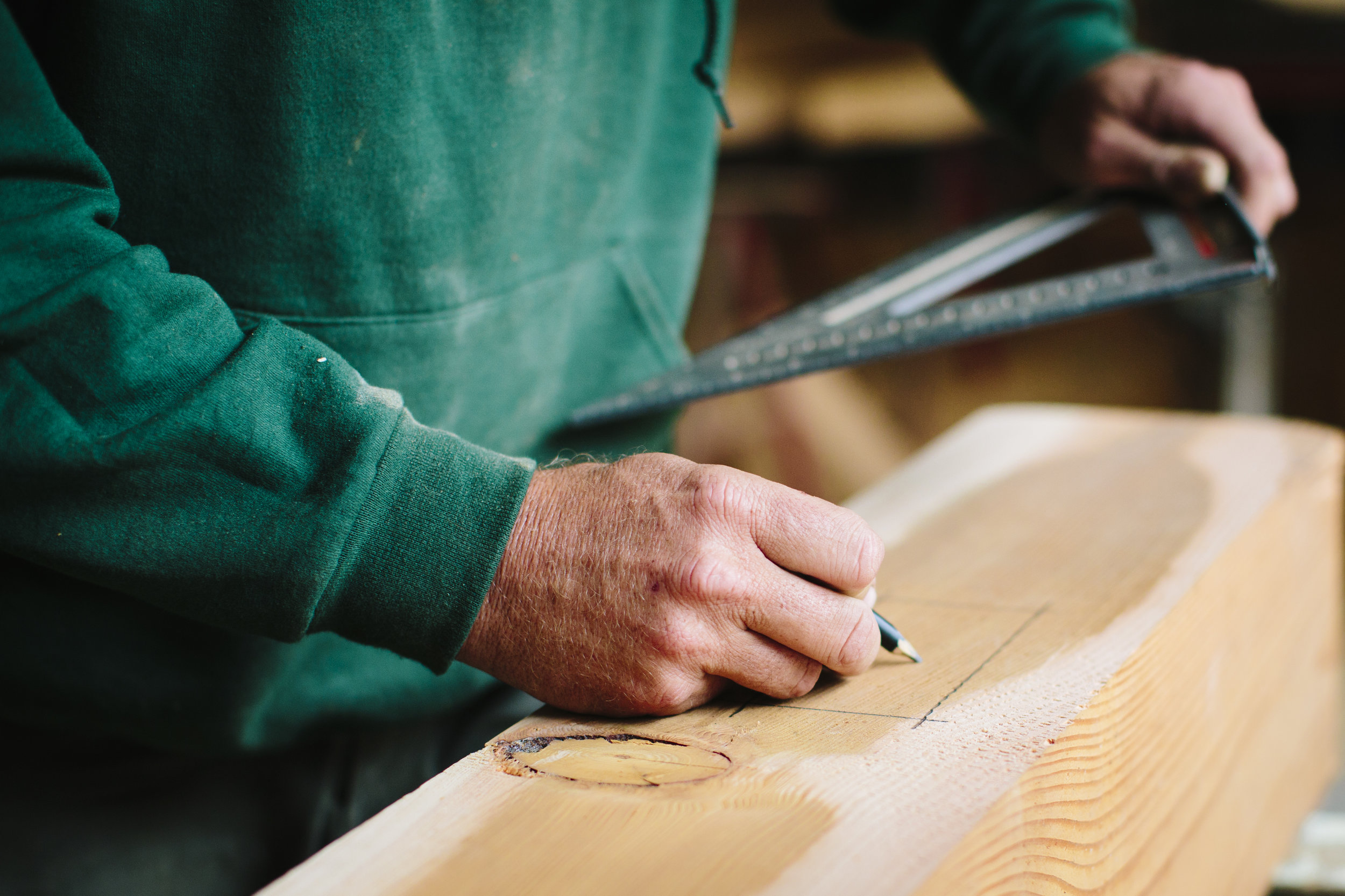 Our roots in the heavy timber business go deep. It all began in the 1970's with a small construction company in the Mount Snow Valley of Vermont. Dover Building Company, owned and operated by my dad, Bob North, evolved into a custom home design and timber frame construction company which grew to meet the demands of the local community and, gradually, out-of-state customers. In 1993, we (myself and my husband, Ken Vilcins) established New England Timber Works, which has been shipping timber frame homes nationally as well as overseas going on 30 years now. Since then, we moved to Wilmington, NC, expanded, and established Atlantic Barn and Timber under the Timberworks Unlimited umbrella.
Atlantic Barn and Timber is still a family-owned timber frame company. We have experience in the commercial and residential glu laminate construction industry with 20 years specializing in heavy timber applications, both exterior and interior, on any scale. Atlantic Barn and Timber specializes in timber frame design, production, assembly and erection. We supply and erect stressskin panels as well as provide and install heavy timber trusses and post and beam structures to clients who prefer hybrid construction for their project. If you have an already existing structure that needs a face lift, we can provide beautiful architectural upfits to make your structure unique. We also specialize in handcrafted outdoor living spaces like gazebos, pergolas, and awnings.
All of our timber projects are crafted with the timeless traditions used in timber frame construction since the beginning. All of our timbers are hand-cut and our joinery is mortised and then secured with oak pegs. Not only do our timber frame structures possess warmth, nobility and charm, but they also provoke powerful connections to ancient traditions and history. No two frames are cut the same. Let's make your project special!
On the ground or in the air, we can build it. No matter how large or small your project is, we are dedicated to providing you with a timber frame worthy of the expectations of your family and generations to come.
-Sharon Vilcins
Click the image below to hear us tell our story.
Green Building
Green Building is part of who we are at Atlantic Barn and Timber. We make it a point to understand the latest green building techniques, stay current with the most recent regulations, and to assist our customers in achieving their green building goals. We are members of the Green Building Council, Cape Fear Green Building Alliance, and are LEED certified. It is our commitment to keep learning and researching green building.
Here are just some of the ways Atlantic Barn and Timber demonstrates leadership and dedication in green building techniques:
1. On-site versus off-site work
Conventional stick homes usually have the materials delivered to the construction site and the cutting takes place on site. This can be inefficient, costly and wasteful. Atlantic Barn and Timber hand cuts all frames in the controlled environment of our shop, therefore, only the materials needed are sent to the site creating very little waste and lower transportation costs.
2. Reduce and Reuse
Atlantic Barn and Timber is committed to recycling materials locally and reusing our wood for a variety of other projects, such as fireplace mantels and furniture. We strive to minimize waste and are always looking for ways to reuse items.
3. Stress skin panels and Energy Star Ratings
The stress skin panels and standard structural panels we use have become recognized as being far superior to other methods of sealing and insulating buildings and homes. Your timber frame home will automatically qualify for an Energy Star rating because of the use of these panels.